Floating in a small boat, we hoped one of the whales would feel compelled to check us out. An adult female gray whale approached our vessel, with a calf just behind her. She surfaced within feet of us. Lifting her head out within arms reach of the boat bow, she allowed the first of us to touch her. While she was saying hello, her baby rolled onto his side. He peaked above the water surface with the right side of his face and looked right at us.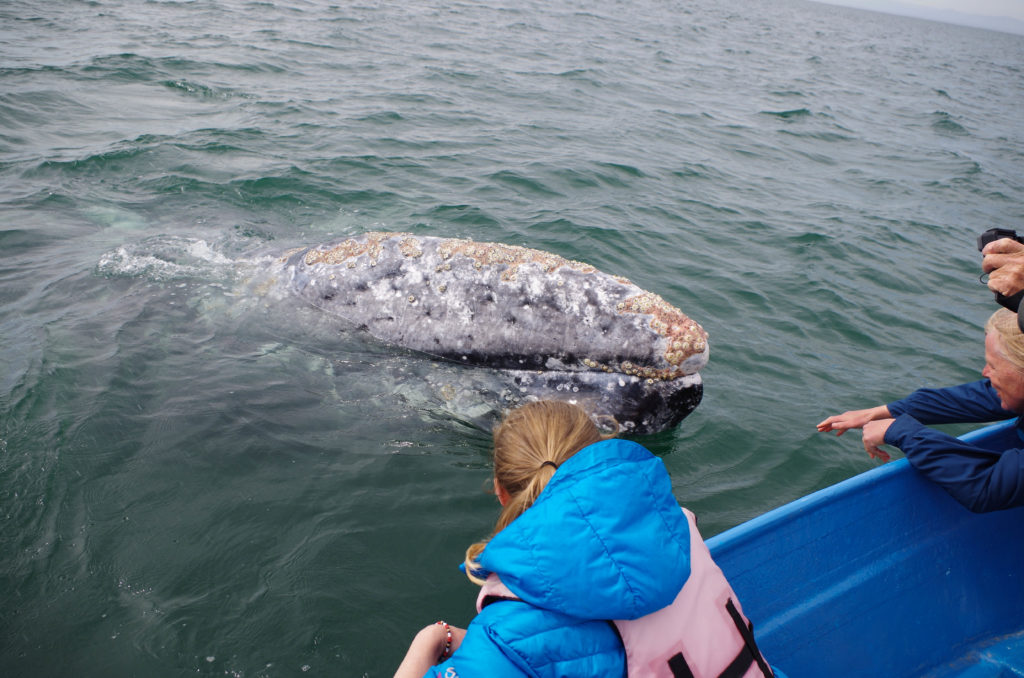 3 different mom and calf pairs visited us during our almost 2 hours in the bay. Each awing us when they emerged by our boat. The final duo remained the longest. The mother repeatedly swam under the boat to pop us and visit the people on each side. When she disappeared, everyone had touched one of the whales except me. Then she resurfaced for a final visit, and slid right up next to me… gliding past so I could stroke the top of her head. Her skin was soft, almost velvety, providing a stark contrast to the attached rough barnacles. By the end of our tour, all 8 passengers had touched a whale and were euphoric.
Only a few other boats were within our view at any time during this experience. It was nice to have so few people out on the water. Periodically, with a twang of jealousy, we observed a whale visiting another boat. Other times, we looked over the horizon and saw whales jumping (sometimes repeatedly) out of the water. And often, looking around, we spied misty air spraying up out in the distance from a surfacing whale. A great number of these creatures were hidden beneath the surface all around us.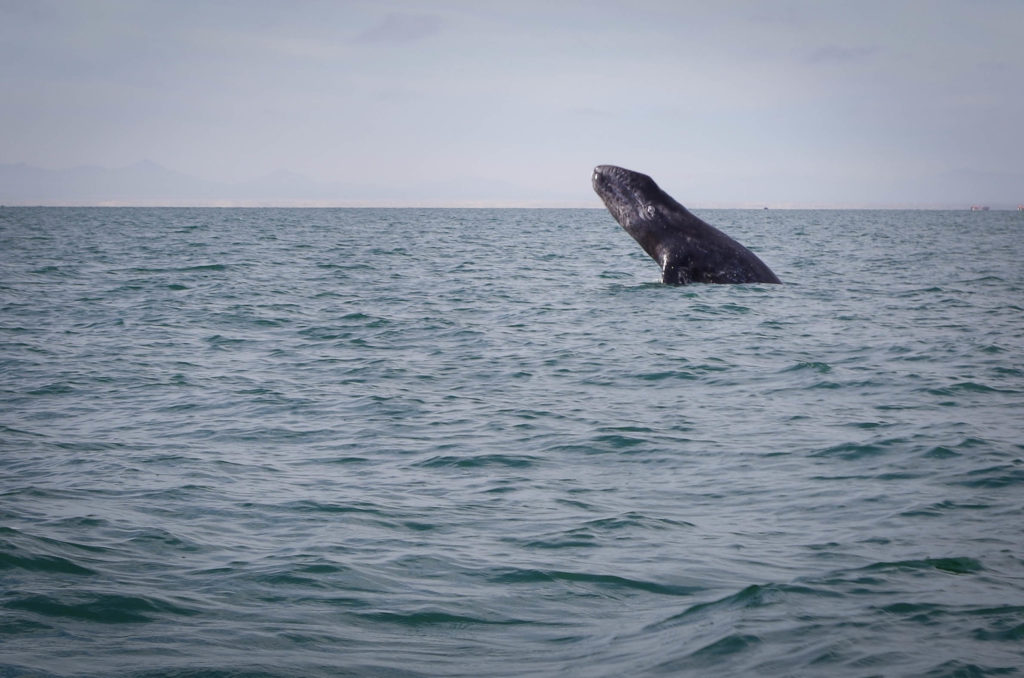 Gray whales come into this bay each year to have their calves. This is because the bay has no predators, and therefore provides a good place for them to make their starts in life. Also, the salinity is higher in the bay, helping lift the calf to the surface to catch its first breath after birth.
Other than size, a major physical difference exists between the mothers and their young calves. The mothers are covered with barnacles. One side of their face is splotched with them, while the other will be mostly clear. We were told this is due to how they eat. Gray whales eat small crustaceans hiding in sand along the sea floor. The whale turns on one side (the right side for the vast majority of them) and scoops the seabed into its mouth. It filters out the water and sand with its baleen, keeping only the meal. This scooping activity scrapes off all barnacles that are attempting to attach to that side.
How to do it:
Plan ahead… The best time to attempt this experience is the middle of February to the middle of March. This is when the calves are old enough that the mothers allow, sometimes encourage, them to visit the boats. When the calves are younger, they do not have as much control over their body movements, needing much more attention from their mothers.
Book a tour with a local guide. There are a few companies to be found with a quick google search. Keep in mind that some of these people do not have access to Internet daily, so start planning with a little extra time and be patient for a response back. We booked with Whale Magic Tours, which is ran by a spirited, entertaining woman named Shari.
Make your way down to Baja. Once you book a tour, ask where they recommend you stay. We drove about 10 hours down from San Diego and stayed a couple hours away from our tour location near the town of Guerrero Negro.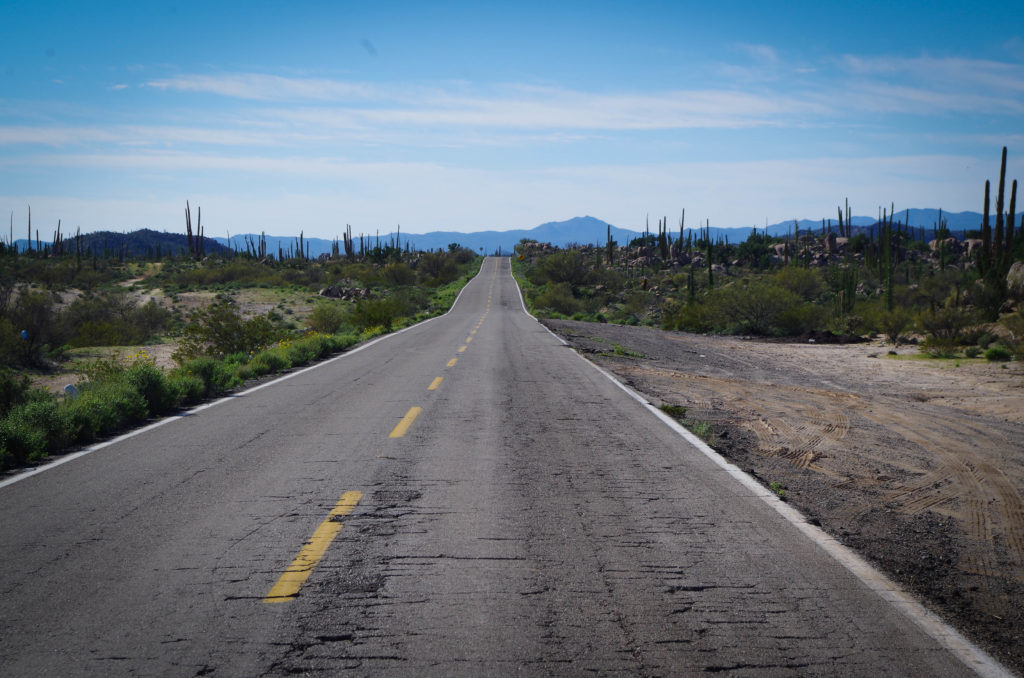 The road trip was long, but had some great views along the way. This drive definitely provides a multitude of cactuses. There is also an airport just outside of Guerrero Negro if you can find a flight there.
If you want an incredible, real experience with these amazing beings, I can't recommend this enough! Visiting them in their own environment and on their own terms is something I will never forget.